TUTORIAL:
HOW-TO REPAIR YOUR VINTAGE HE-MAN (MOTU) FIGURE LEGS
The best way to repair your Motu Vintage figure's legs
This is a tutorial for fixing the leg bands on your Vintage Motu (Masters of the Universe) Figures.
YOU WILL NEED
1. Leg band replacements. Buy them here.
2. Forceps. I use these that you can get on Amazon.
3. A standard hair dryer.
4. A small flat head screw driver.
5. A sharp knife (if the legs are still attached to the figure).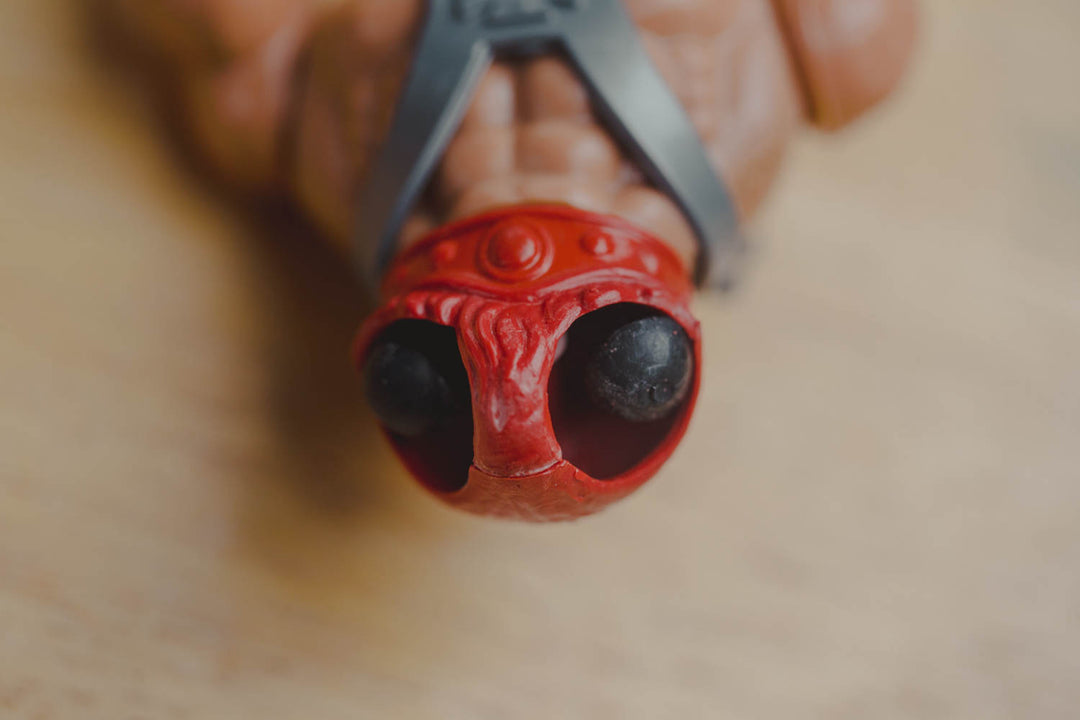 STEP 1
Remove the legs from your figure by cutting the old leg band with a sharp knife. Insert the new leg band into the crotch of the figure. The crotch has 2 openings. A large one in the front and a small one in the back. The leg band needs to go through the top (smaller) opening. You can insert it, and use the forceps or the screwdriver to gently pass it through. Push, don't pull on the leg band. Pulling the leg band can over stretch them.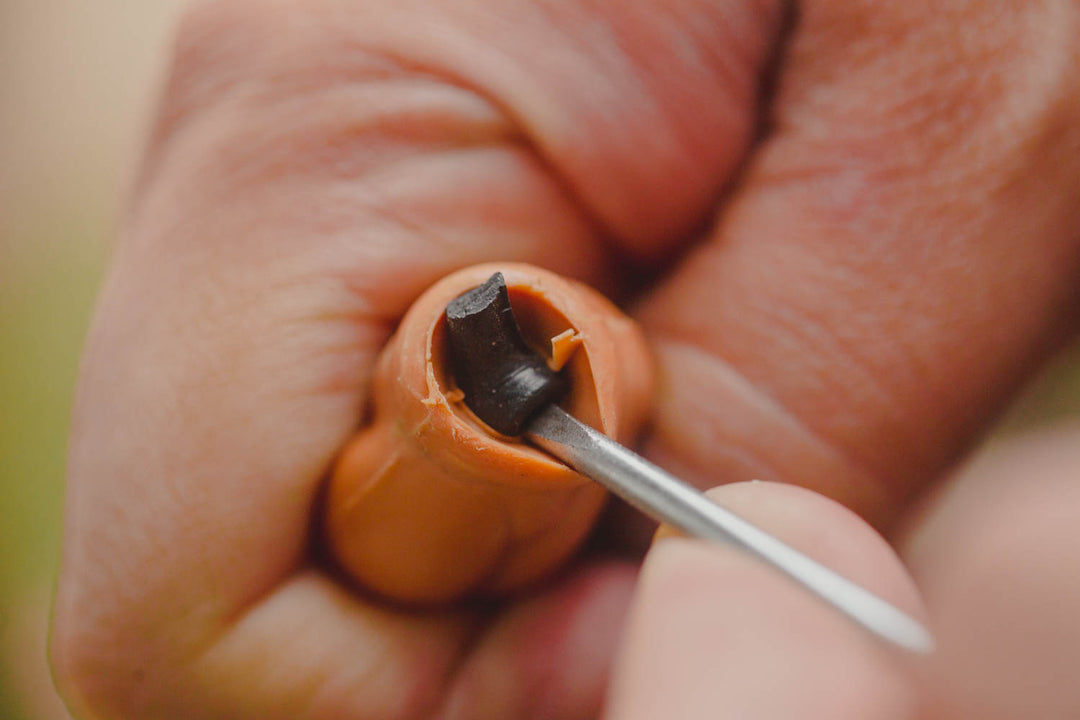 STEP 2
Warm the top of the legs with the hair dryer. Anywhere from 30 sec to 1 min should do just fine. Once you do so, you can take a small flat head screwdriver and take out the old leg band. You do this by inserting the screwdriver into the socket, and getting it under the leg band. Once its under the band, you pop it right out. Once you get practice, you will be able to pull out the old leg band in one piece. Make sure there is no pieces of leg band inside the socket. All pieces of the black leg band must be completely removed.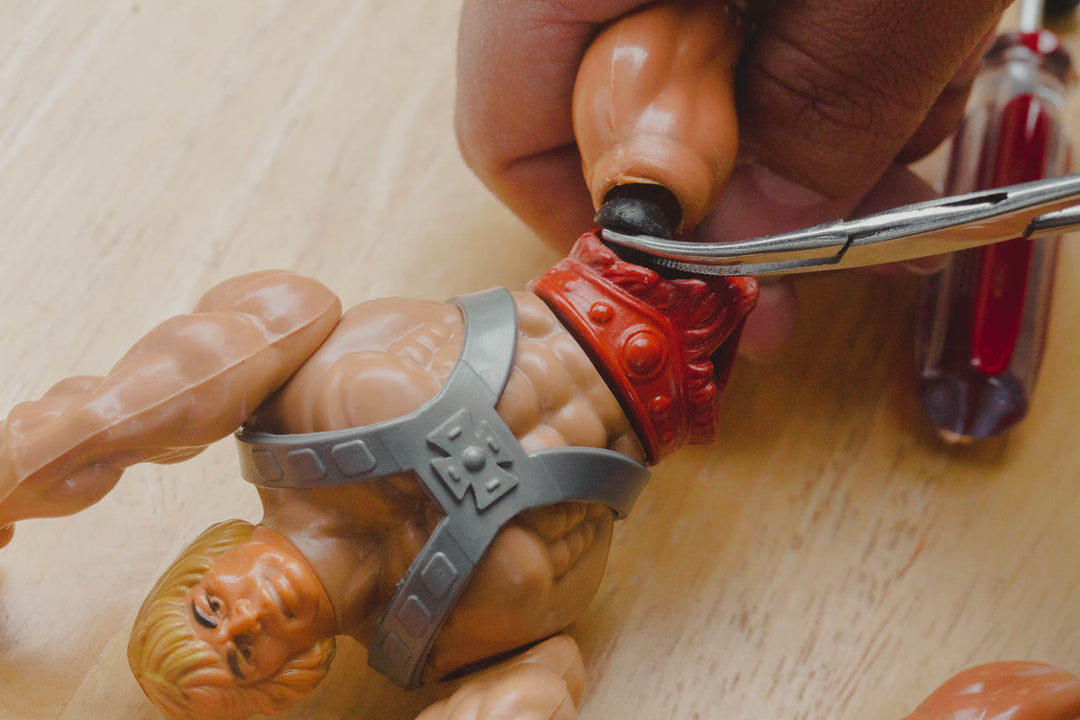 STEP 3
Starting with one leg (I start with the left), use the forceps to gently push the head of the leg band into the leg hole. You want to push the head of the leg band into the leg socket. The first leg is fairly simple to do.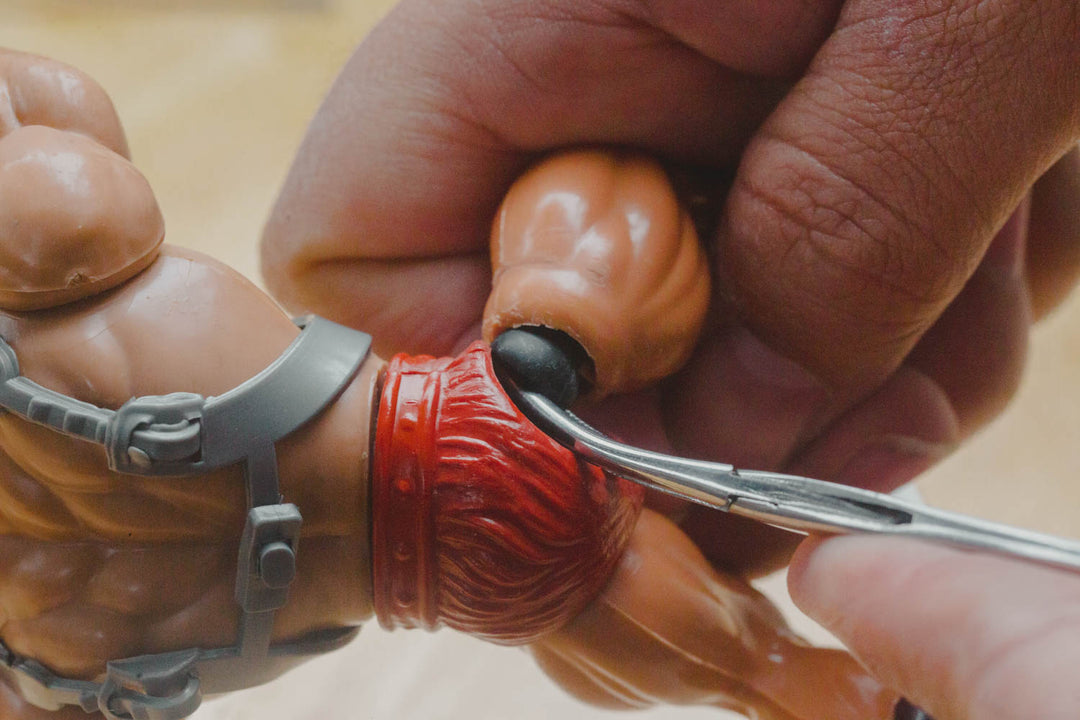 STEP 4
Once the first leg has been attached, start with the second one. Do you best to pull on the leg band as little as possible to avoid overstretching it. Hold the tip of the leg band head with the forceps and push it into the remaining leg socket. Make sure the entire leg band head is properly inserted into the socket.
all done!
This process take some practice, but after a few tries you should get the hang of it. I recommend practicing on figures that are not very valuable, before you moving on to rarer and/or more fragile figures. Don't start this on a leo if you've never done a leg band replacement before! Note, certain figures will require shorter leg bands. Mosquitor, Man-e-Faces, Beastman, and all 3 female figures generally will do much better with short leg bands.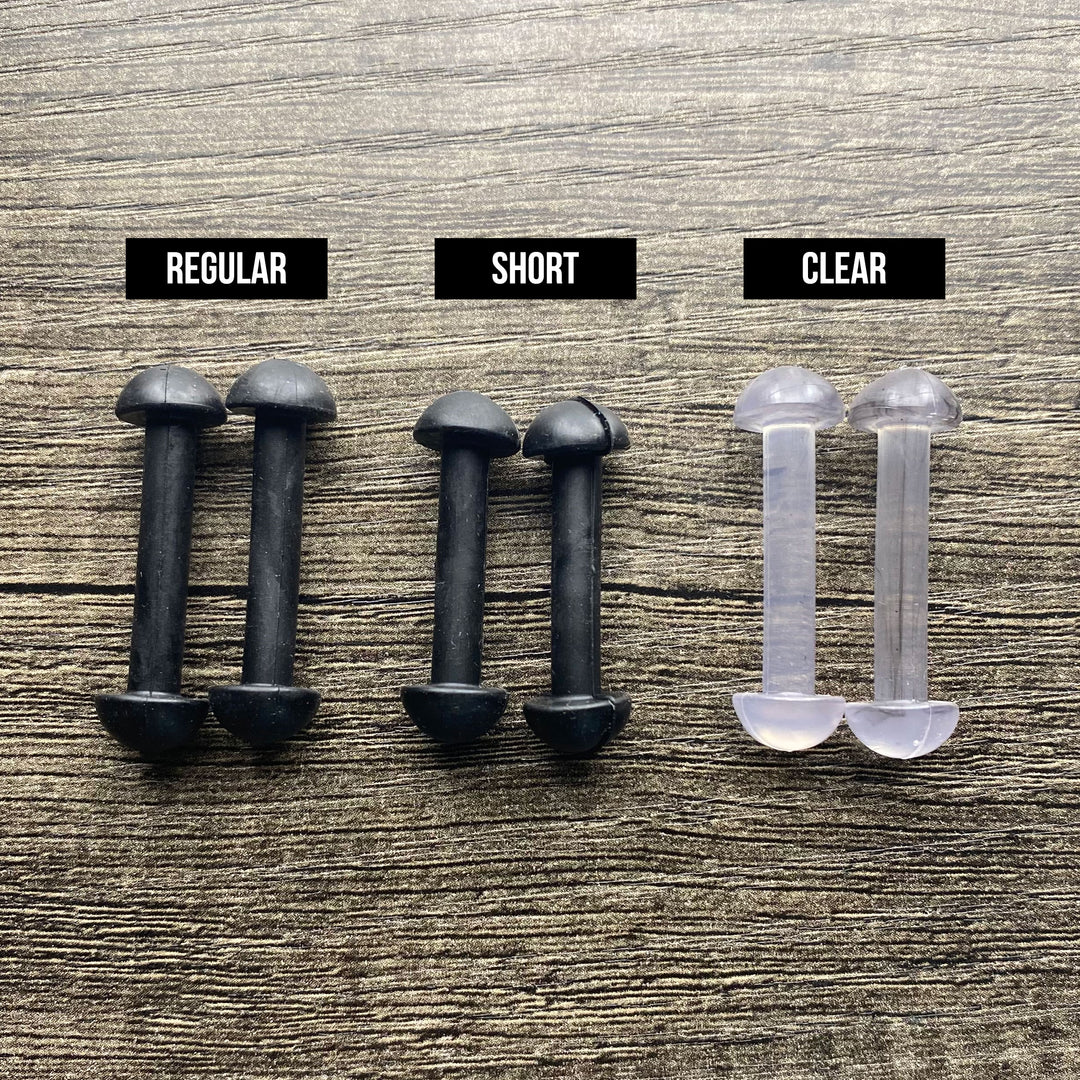 Regular vs Short vs Clear Leg Bands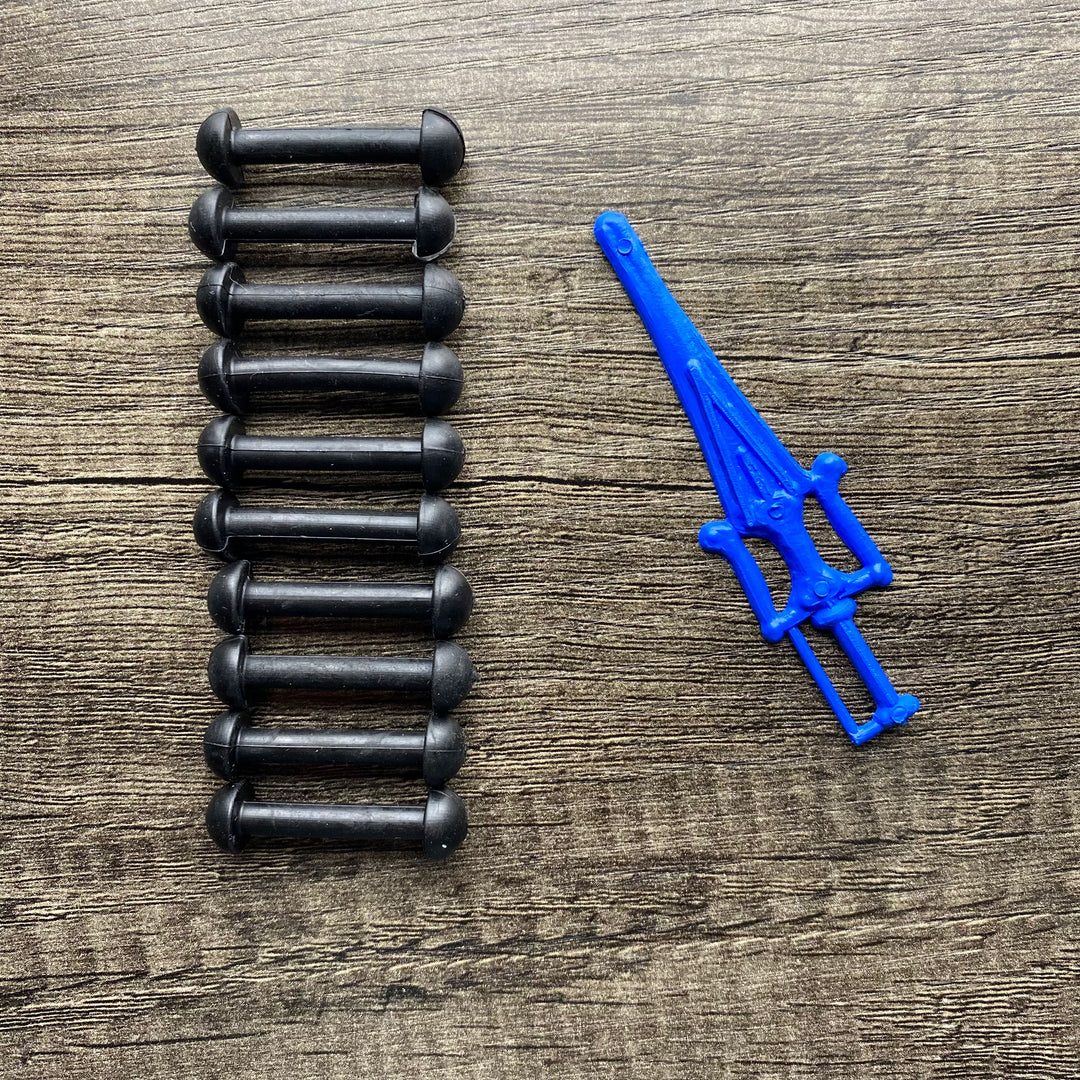 10ct of Regular leg bands + Free Sword (Sword color will vary)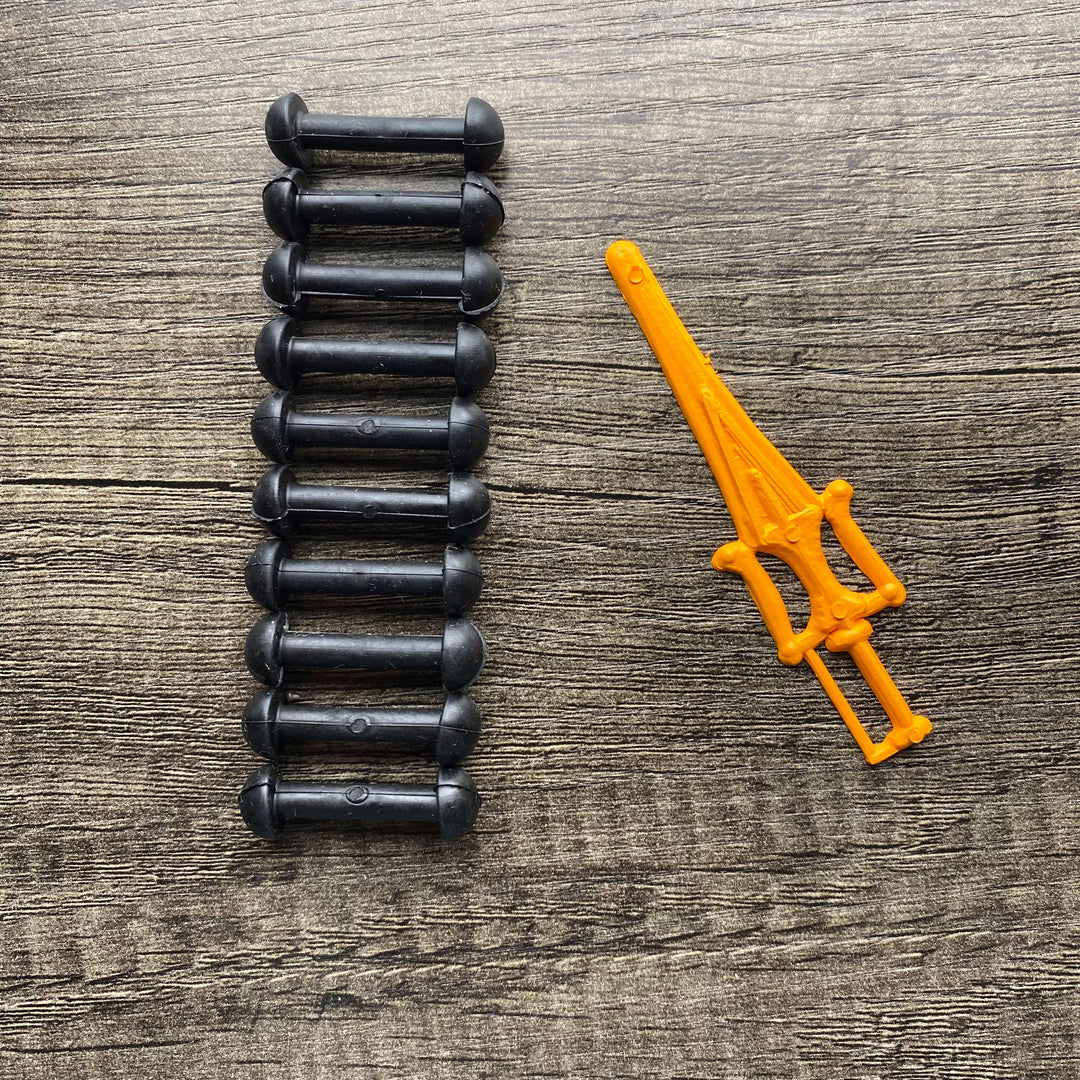 10ct of Short leg bands + Free Sword (Sword color will vary)
10ct of Clear leg bands + Free Sword (Sword color will vary)